Guest Workshop Series
We work with a lot of great partners and love to have them share their amazing resources with local teachers! In order to facilitate that, we have created a series of Guest Workshops where we host organizations such as BioBuilder, miniPCR, Bio-Rad, Flynn Scientific, and 3D Molecular Designs to come to the Chicago-land area and work with our teachers.
There are no upcoming Guest Workshop Series
BRINGING DNA DISCOVERY INTO YOUR CLASSROOM
Lindblom Math & Science Academy
Time: 9:00am - 3:00pm 
Facilitators: Emily Gleason, miniPCR & Bruce Bryan, miniPCR
For decades, the tools of biotechnology and DNA analysis have been difficult to implement in classrooms. The miniPCR DNA Discover System is an innovative biotech teaching toolkit that closes this gap. In this hands-on workshop we will develop skills to bring the cutting edge of biology and space exploration into your classroom.
miniPCR and partners have created Genes in Space, a free science competition where teachers and students can design DNA research proposals for space. Winners have their experiments launched to the International Space Station and become involved in real-world space biology research. Join us and learn how to participate in Genes in Space, immerse yourself in real-world uses of biotech in agriculture, forensics, and medical sciences, and develop skills to implement hands-on biotech with your students. We'll also share how to obtain free loans of miniPCR "Lab in a Box" equipment and reagents. 
This workshop is presented in conjunction with miniPCR.
---
IDENTIFY PATIENT ZERO OF THE ZOMBIE APOCALYPSE
Whitney M. Young Magnet High School
Time: 5:00pm - 7:30pm 
Facilitator: Mary Clark, Whitney M. Young Magnet High School
Explore the spread of a zombie virus through your classroom with this hands-on lab! We'll use the power of an ELISA assay to see who got "zombified," and to identify the first zombie in the workshop. The specific nature of antibodies in the ELISA assay enables the testing of almost any biological molecule that elicits an immune response, so you can use this same lab to study disease transmission of Ebola, HIV, H1N1, etc. 
This workshop is presented in conjunction with Bio-Rad.
---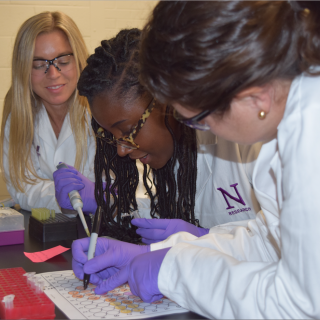 A BCSE GUEST WORKSHOP EXPLORING SYNTHETIC BIOLOGY
Northwestern University, Evanston Campus
Facilitators: Tom Martinez (Glenbard East High School) & Jessica Stark (Northwestern University)
This three-day professional development opportunity is designed to prepare educators to bring biological engineering and synthetic biology into their classrooms and laboratories. The workshop includes lectures that connect the STEM aspects of these fields, labs and classroom activities available at www.BioBuilder.org, lunchtime discussions with members of the synthetic biology community, and activities that address the nuts and bolts of running an iGEM team.
Click HERE for more info!
---